Basal Bottle
$24.99 $34.99
Our functional yet sustainable water bottle acts as a visual reminder to stay hydrated. Drinking more water gets rid of fatigue, boosts your metabolism, clears your skin, and helps with better concentration. More water, better days — it's really that simple.
1. Time stamps to help you track your progress of daily water intake.
2. BPA-free and lightweight for easy carry.
3. 1L of water per fill for plenty of hydration.
4. Beautiful and thoughtful design.

Capacity: 1L / 34oz 
Dimensions: 28cm/11in 
Color: Black Frost
Finish: Stainless Steel Lid, BPA-free Plastic Bottle
Customer Reviews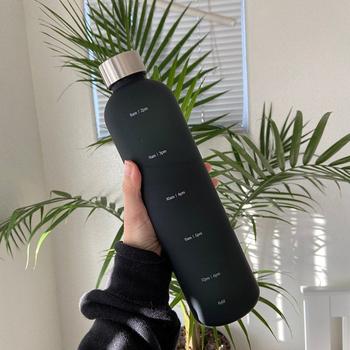 03/05/2021
Love it!
Such a cute and sleek water bottle! My only complaint is that I wish it was a little more transparent so that you can see the water better. But overall very happy with it and definitely recommend!
Justine

United States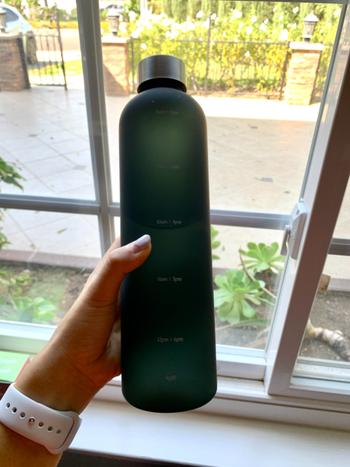 10/06/2020
Perfect while working from home!
I've been working from home for the past 7 months and never really noticed how little water I drink on a daily basis. The time stamps on the bottle are really subtle but they do their job and I always drink the allotted amount of water each hour. Sometimes I'll have to chug 3 hours worth of water because I wasn't paying attention but I love that it keeps me accountable. A few more bathroom breaks but well worth it for my overall health!
Eunsoo C.

United States
03/31/2021
Basal Bottle
I love the design of this bottle! It can take hits and drops. While it isn't totally transparent, you can still see the amount of water left if you hold it up in the light
10/06/2020
Minimal
I use this bottle every day now and honestly, it's amazing! Thank you!
Bryan C.

United States
10/06/2020
Such a cool bottle!
Love this idea! Super helpful and simple. Definitely will get some as gifts for friends and family.
Michelle S.

United States